OTR Wellbeing Champion Festival 2023
Leading the Movement in Well-being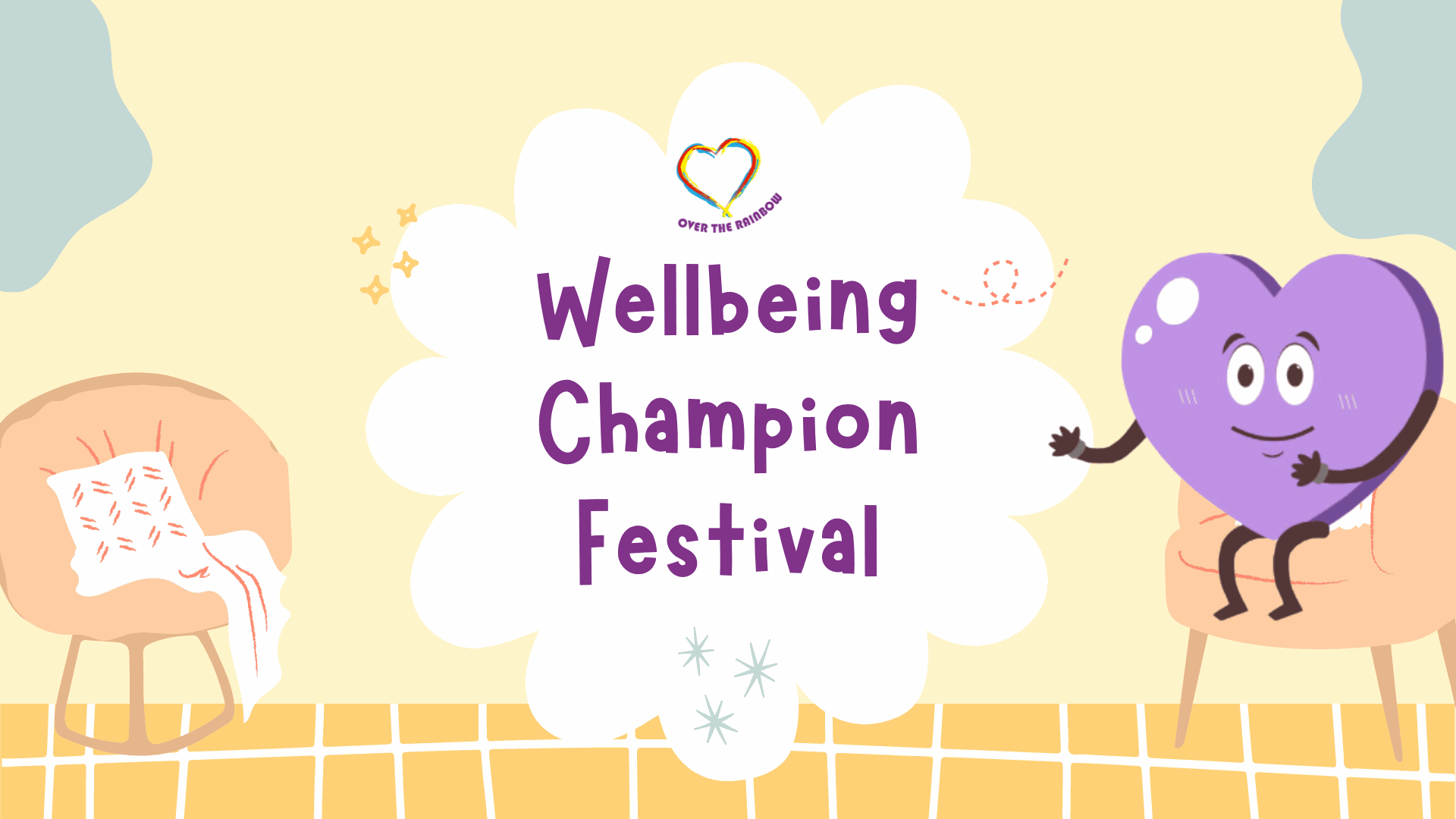 Join us for a day of healing, self-care, art, laughter and
movement - leading the Movement in Well-being! 
Important information: 
Date: September 17, 2023 (Sunday)
Time: 10:00AM - 05:00PM
Doors open at 09:30AM
Location: The Red Box, 113 Somerset Rd, Singapore 238165
Closest MRT: Somerset

We conduct these programs to support the mental wellbeing of the larger community. To help us keep these initiatives running, your donation is appreciated and much needed. Recommended amount: $20.
Please send your donation via PayNow to: WholeTree Limited (UEN No. 201022300R), which will go towards supporting the OTR Gala 2023 event. To enjoy 250% tax deduction, please reference:
Your NRIC for individual donation

UEN for corporate donation
How to register:
You can choose individual workshops that are of interest to you.

If you like, you can register for all 6workshops.

To register, simply click on "Tickets" and select the workshops you would like to attend.

For logistics reasons, you'll need to register for each workshop separately.

Space limited. First come first serve.
Program
10:00AM - Laughter Yoga
with Chusan See Toh, Holistic Healer and Life Coach, OTR Volunteer
Laughter Yoga is a fun exercise that combines deliberate laughter with movement and breathing to cultivate joy and to bring out our inner child. Laughing can provide many immediate benefits by:

Releasing endorphins and happy hormones like dopamine and serotonin, they lift our mood and reduce stress
Relieving pain, lowering blood pressure and strengthening the immune system
Laughing with other people can also increase social connectedness and bonding
As we grow older we tend to laugh less because we have somewhat lost our sense of humour. Little things that used to make us shriek with laughter are no longer funny.

11:00AM - Life Changing Power of Affirmations
with Monica Patel, founder of United Healing Sanctuary that fosters mental and physical health along with spiritual/personal growth.
Welcome Introduction

Guide Meditation for Deep Relaxation

Video on Affirmations

Q&A Session

Writing Affirmations

Guided Meditation

Takeaways


12:00PM - Break


01:00PM - Music in Motion
with Sek Sheng Foo (conscious DJ/ musician) & Julia Vasko (embodied movement facilitator)

Revel in the opportunity to understand the connection of music to body in a safe environment, explore the therapeutic power of music and movement through self-expression and mindfulness.
Experience how a DJ can harness the power of music and intention to take you on a multi-faceted journey of understanding and healing.

Coupled with Movement, experience how embodiment can help in self-acceptance and connect you deeper to your body's wisdom

Understand the fundamentals behind  experiential movement and the joy it brings.
02:00PM - HeartMath for Healing & Wellbeing
with Antoinette Biehlmeier, holistic health professional & founder of Inner Dynamics Map


HeartMath is a scientifically based system that aims to promote emotional well-being and enhance resilience through the power of the heart. It combines research, technology, and practical techniques to help individuals manage stress, improve mental clarity, and foster emotional balance. At the core of HeartMath is the understanding that the heart has its own intelligence and can significantly influence our overall well-being.
In this interactive workshop, you will learn two HeartMath Techniques to create more ease and inner calm in your life, have more energy and more appreciation for yourself and others. 
She's the founder of Inner Dynamics Map that helps her clients to overcome personal challenges to live more authentic and fulfilling lives.
02:45PM - Open Canvas
with Yee Ling Chow, 

artist, professional counsellor, yoga practitioner, OTR co-founder

Every one wants to be happy, to love, to be loved, to connect, to create. And when we create something with our heart that reflects our inner yearnings - our soul finds creative fulfilment. Creativity expressed via an open canvas via artistic expressions in a safe space together opens the door to our heart and mind - helps connect to ourselves and to ot

hers - using colours and shape - shaped by our hope and our dreams - fuelled by the imagination.
03:45PM - Sound Bath for Relaxation, Healing & Wellbeing
with Raymond Yap, experienced corporate trainer, executive coach, mentor and sound master
A Sound Bath session will be presented to balance your physical, emotional and mental systems, to restore a sense of harmony, deepen relaxation, lower stress and anxiety, improve your mood and well-being.

 
04:30PM - The End